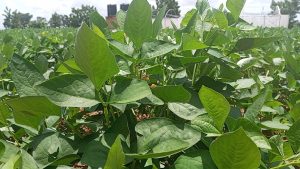 The National Biosafety Authority(NBA) has given Ghana the green light to commercialize its first ever Genetically engineered Bt Cowpea (Beans) on the market for the validity of 10 years.
This approval is granted with effect from 30th June 2022 to 29th June 2032
It has taken more than a decade for this very GM Beans to be accepted and released into the environment and placing it on market.
According to the board the Decision on an Application from the Council for Scientific and Industrial Research (CSIR), Savanna Agricultural Research Institute (CSIR-SARI) for Environmental Release and Placing on the Market of Cowpea (Vigna unguiculata L. Walp.) Genetically Modified for Resistance to Maruca pod borer (Maruca vitrata) Event AAT-709AA-4 (hereafter referred to as cowpea event 709A) in Ghana.
The Board of the National Biosafety Authority (NBA) in light of the foregoing, finds the proposed environmental release and placing on the market the cowpea event 709A is of significant benefit to Ghana and has no increase in risk compared to conventional cowpea varieties.
The Board, therefore, approves its environmental release and placing on the market in Ghana for a ten (10) year validity period, with subsequent renewals being administrative-based.
The Board further directs that any Vigna unguiculata progeny lines derived from cowpea event 709A may also be grown and used for food and feed, provided that no cowpea products resulting from intra / inter-specific crosses of event 709A. with other genetically modified (GM) events are commercialised without prior approval of the individual GM cowpea events the intended uses are in line with the existing approval; it is known that these plants do not display any additional unapproved GM traits and, as a consequence, compared to conventional cowpea varieties, they are similar in terms of potential environmental impact, and substantially equivalent in terms of food and feed safety.
More soon.