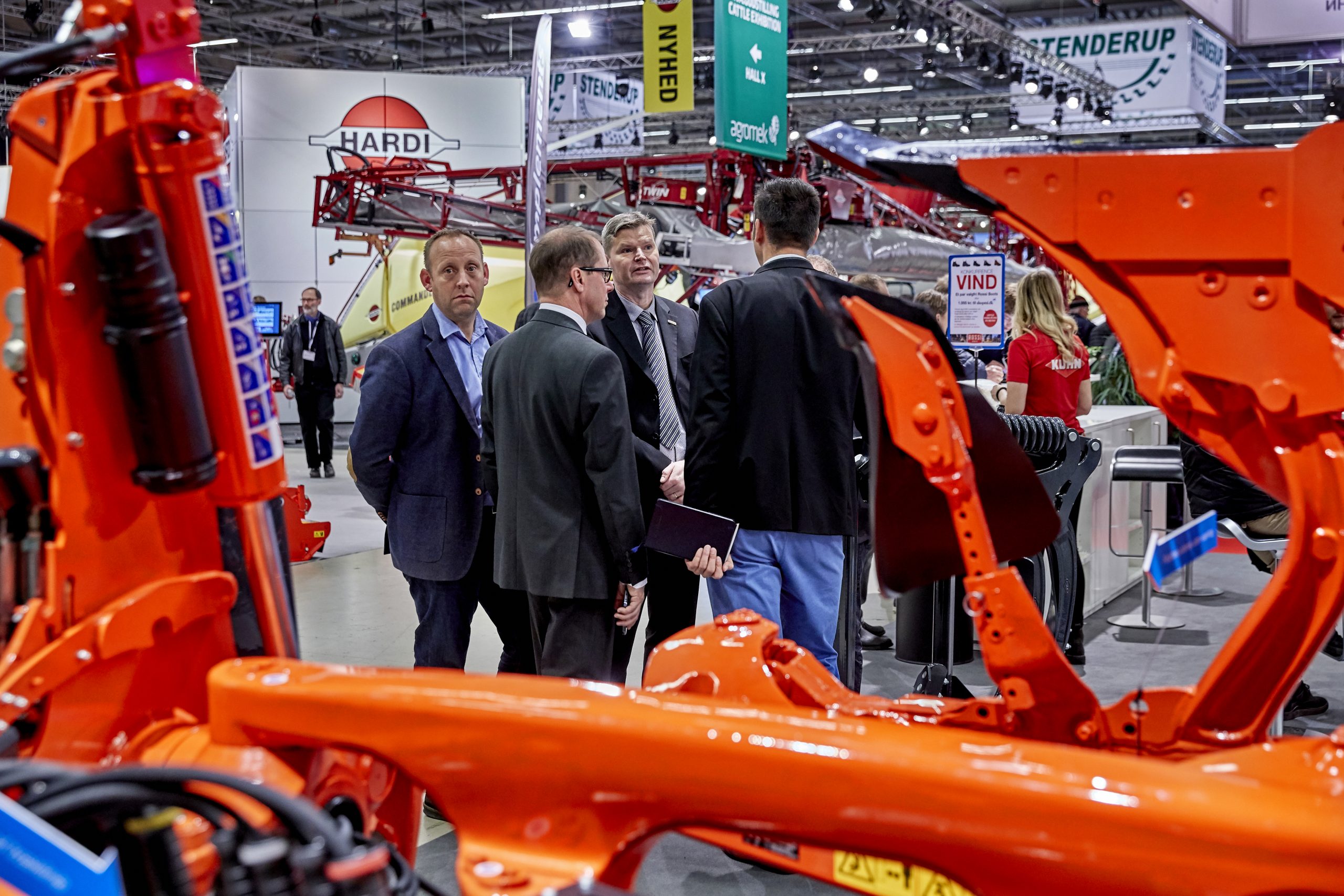 Representatives from as many as 43 countries will be arriving at MCH Messecenter Herning next week for Agromek. The major agricultural event brings together the industry's producers, suppliers, dealers, and farmers to experience the latest machinery, a cattle exhibition, conferences, and networking meetings.
International interest in Agromek, northern Europe's biggest agricultural expo, is tangible. So far, visitors from 42 countries have registered, the over 530 exhibitors include representatives from 21 countries, 10 international delegations have announced their participation, and many foreign ambassadors have also indicated they will be attending. All of which makes Agromek's Chairman, Sten Andersen, very happy.

"The participation of both exhibitors and visitors from abroad is vital for Agromek and for the entire Danish agricultural industry, which has many international partners," he comments. "We are working determinedly to maintain an international focus at the expo, and it is therefore pleasing to see that Agromek still enjoys a strong profile – also abroad."

Agromek supports export
The expo's international focus is a decisive factor for many Danish exhibitors, including HE-VA, which manufactures agricultural machinery and exports much of its production. The company invites many of its international partners to the expo, and this year there has been a lot of interest. As many as 72 of its customers have accepted the invitation, which is 30 more than in 2018, explains HE-VA's Technical Manager, Heine Christiansen.

"It is incredibly important that Agromek maintains its international focus," he says. "For us, it means a lot that we can show our portfolio to our international customers, create new contacts, and pave the way for new export opportunities. We do love our Danish home market, but part of our objective in exhibiting at Agromek is also to enter into new international partnerships. So it is vital to have this event that brings the entire industry together – when we exhibit side by side, we are also able to support each other and create an even bigger draw for players from abroad."

Agromek's 70 exhibitors from abroad also have great expectations of this year's expo. This is certainly true of Darragh O'Carroll, Market Advisor at Enterprise Ireland. Along with six Irish businesses, the government agency is exhibiting at the expo to strengthen Ireland's position in the Nordic region.

"Some of the Irish companies have been in the Nordic market for years and are exhibiting to reconnect with partners and customers after the pandemic," he explains. "Other companies are brand new to the Nordics and want to get feedback on their products for the market and also meet new partners. In the agri sector it is particularly important to see the products in person and meet the people behind the products face to face. Agromek is the largest agri show in Northern Europe and it is a great place to meet the Agri community from all countries in the region," he adds.

Many international activities
Much of Agromek's extensive programme of activities is aimed at visitors from abroad. For instance, the conference programme in the Future and Innovation area, "Days of Future", will include a number of English-language presentations. Tuesday's programme will begin with "The Danes and the Dutch: Farming the Future Together," to which the Dutch Ambassador Nienke Trooster will be a contributor. In addition, the programme on the embassy's stand will be presented in English.

"The Dutch and Danes started working together on agriculture 500 years ago," says the Ambassador. "This year will be the first time that the Dutch have attended Agromek, and we will examine the future of agriculture and how we can take a sustainable approach to it. I am really looking forward to attending."

There will also be content aimed at the international visitors in the Biogas area, where the Biogas Stage will feature several presentations of great current interest on everything from climate credits and ecology to technological trends and global perspectives. Meanwhile, the international conference "Advances and Innovations in Agricultural Engineering: The 4th NJF – EurAgEng – Agromek Joint Seminar" will also be held.

Agromek will be held from 29 November to 2 December at MCH Messecenter Herning.
Contact Information
Claus Hermansen,
CEO, Agromek
Tel. +45 40 42 59 47
Email: 

[email protected]