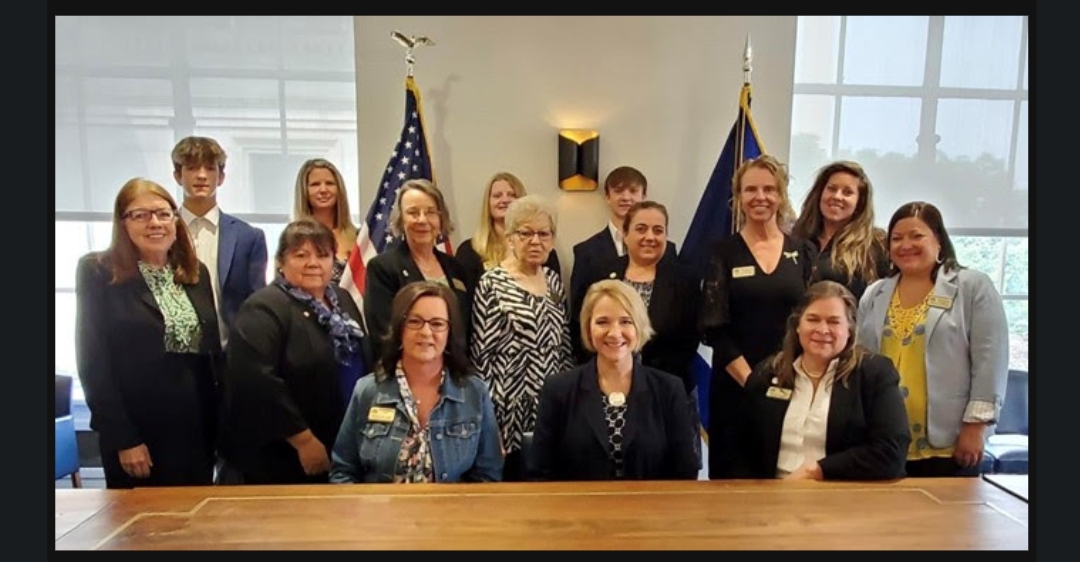 (Back) Bond Knodle, IL., AAW Legacy Kid, Chrissy Wozniak, FL., Hannah Guthoerl, FL., AAW Legacy Kid, Jhett Hart, TX., AAW Legacy Kid, and AshlyAnn Lemhouse, OR.
(Middle) Chris Wilson, KS., Ruth Jensen, FL., Linda Schiffer, WY., Ardath DeWall, IL., Lora Daniels, CA., Debra Stroschein, CA., and Marie Bowers, OR.
(Seated) Laura Hart, TX., AAW VP of Communications, Heather Hampton+Knodle, IL., AAW President, and Rose Tryon, CA., AAW First VP
WASHINGTON, DC (AgPR) June 16, 2023 – Women in agriculture from throughout the U.S. recently gathered in Washington, D.C., for the 37th Annual American Agri-Women (AAW) Fly-In to D.C. and the 28th Annual Symposium. The group met with elected officials and policymakers to discuss critical issues, including trade, taxation, forest labor, atrazine, biofuels, animal welfare, and the 2023 farm bill recommendations.
This year's 28th annual Symposium, by the AAW Past Presidents Council, "Border Security and Food Safety Equal National Security" featured panelists were Kathy Nuebel Kovarik, President of Sagitta Solutions, LLC, Susan J. Kibbe, Executive Director of South Texas Property Rights Association. The Symposium moderator was AAW Past President, Mitzi Perdue. Julia Haart, star of Netflix "My Unorthodox Life" was a special guest at Symposium, delivering remarks about her work on behalf of Ukrainian farmers and the plight in the war-torn country and the daily barrage of mines destroying the farmland.
Also on the itinerary was the presentation of the coveted AAW Champion of Agriculture Award. This honor recognizes a member of congress who has displayed exemplary courage in presenting and supporting legislation promoting American agriculture, rural American lifestyles, and the U.S. Constitution. The 2023 recipients are U.S. Senator Joe Manchin III (D-WV) and House Ag Committee Chair Congressman Glenn "GT" Thompson (R-PA).
Advocating for agriculture, the AAW Fly-In was an opportunity for AAW members to engage in a roundtable format with leaders from the USDA and EPA that interact and regulate farming and ranching. Members also met with their congressional representatives and senators to discuss how laws and regulations impact agricultural operations and businesses.
National Federation of Independent Business (NFIB) hosted the group where members heard from Kevin Kuhlman, Vice President, Federal Government Relations. NFIB is the voice of small business, advocating on behalf of America's small and independent business owners, both in Washington, D.C., and in all 50 state capitals. NFIB is nonprofit, nonpartisan, and member driven. Since our founding in 1943, NFIB has been exclusively dedicated to small and independent businesses and remains so today.
A highlight of the 2023 AAW Fly-In was the visit to the Embassy of Italy. We heard from Anna Beatrice Ciorba, DVM, Agriculture and Food Attaché for the Embassy of Italy on "Imports and Exports of Food Products from Italy to the United States." The embassy invited us to a "Taste of Italy," serving the group traditional Italian pizza.
This year the group also included four American Agri-Women (AAW) Legacy Kids from Texas, Florida, Maine, and Illinois.
About American Agri-Women
American Agri-Women (AAW) is the national coalition of farm, ranch, and agribusiness women's organizations and state and commodity affiliate organizations. AAW's Vision for the 2023 Farm Bill can be found at www.americanagriwomen.org. AAW promotes the welfare of our national security through safe and reliable food, fiber and energy supply. Since 1974, AAW members have worked together to educate consumers, advocate for agriculture, and offer networking and professional development opportunities. Go to the AAW website for more information and to join www.americanagriwomen.org. Find AAW on social media at: Facebook.com/AgriWomen/, Twitter.com/Women4Ag/ (@Women4Ag) and Instagram.com/americanagriwomen/ (@americanagriwomen). #standupspeakout4ag
# # #
Media Contact:
Laura Hart
Vice President of Communications
American Agri-Women
806-647-5911
[email protected]