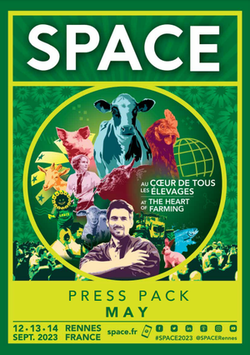 SPACE 2023 will take place from 12 to 14 September at the Rennes Exhibition Centre.
This 37th edition of SPACE will be dedicated to the dynamics of animal farming and will once again be a major highlight of the new agricultural season.
SPACE 2023 is preparing in a context of rising energy costs, of generational renewal, of unprecedented high prices for agricultural products, and of climate change.
In such a shifting environment and in the face of the structural changes within our agricultural sector, SPACE is becoming an ever more essential event for all professionals to gather information, exchange ideas and find new synergies to continue to develop and adapt animal farming in the regions of Western France.
The international context is also evolving significantly. The war in Ukraine has had a strong impact on the agricultural policies of countries that are dependent on Ukrainian and Russian supplies.
The question of food sovereignty has become crucial for many countries, and particularly for developing countries. Our companies and organisations are well equipped to position themselves on these markets.
The international scope of SPACE, which welcomes more than 120 countries every year here in Rennes, is a clear demonstration of our ability to offer solutions to this global food challenge.
Many delegations from all over the world are expected to attend again this year, in particular from Europe, the Middle East and of course Western and Central Africa.