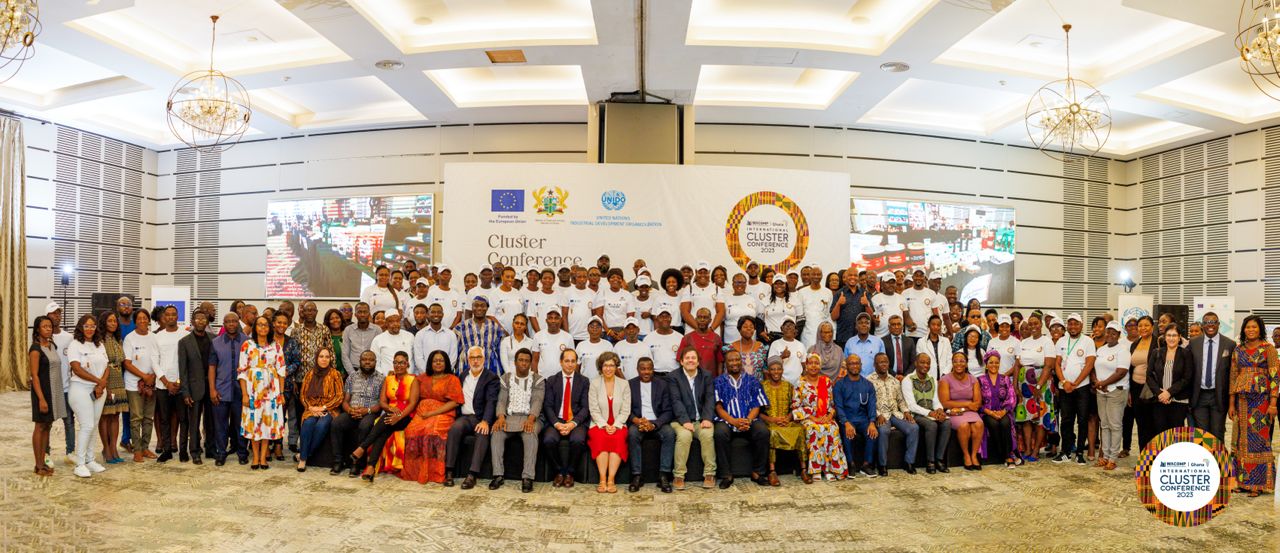 ACCRA, 22nd August 2023 – The 2nd Ghana International Cluster Conference attended by over 200 cluster experts, industrial experts, SMES and support institutions across Africa has ended in Accra with calls for a more strengthened business clusters across the ECOWAS region and use of cluster development methodology for integration in the African Continental Free Trade Area (AfCFTA).
The conference, organized by the United Nations Industrial Development Organization (UNIDO), the European Union and the Ministry of Trade and Industries (MoTI) on the theme "Ghanaian Clusters, A Driving Force for the Economy", showcased innovations and successful results in the fruits, cosmetics and cassava value chains targeted by the West African Competitiveness Programme.
Hon. Mr. KT Hammond, Minister of Trade and Industry, in a speech read on his behalf by the Chief Director, Mr. Yaw Nimo said: "Government has prioritized key sectors reflecting Ghana's commitment to restoring the economy on an irreversible growth path through transformative agriculture, trade, and industry."
He commended UNIDO and EU for the quality delivery and coordination they have demonstrated over the years working with the Government of Ghana to promote cluster development, industrial competitiveness and economic integration. He highlighted the excellent cooperation with MoTI and the precious support to the government's "10 points Industrial Transformational Agenda", with a special emphasis on the One District One Factory, Export Development Programme, Enhancing Domestic Retail Infrastructure and Development of SMEs to impart Government's objective of job creation.
Mr. Stavros Papastavrou, UNIDO Representative in Ghana and Liberia, praised the joint implementation effort of Government of Ghana, EU and UNIDO. He said "What WACOMP-Ghana has done is to prove that MSMEs do not need much to contribute to the economic growth of West Africa. What is needed is fair markets, fair trade, and access to finance on fair conditions. I am particularly happy for the Government of Ghana and the European Union for successfully implementing the UNIDO Cluster Development Methodology in the cassava, cosmetics and tropical fruits value chains".
Mrs. Ebe Muschialli, UNIDO Industrial Development Expert and WACOMP- Ghana Project Manager highlighted: "The joint commitment of UNIDO and the Government of Ghana have helped the supported Clusters and SMEs members to be more competitive to enter the international market. We are proud of the SMEs we have been working with over the past years, as they have gone a long way. They are producing new and more attractive products, that are compliant with international standards. They are now equipped to promote Ghanaian products in Africa and around the world."
Dr. Charles Kwame Sackey the Chief Technical Advisor of WACOMP- Ghana confirmed clusters are successful drivers for enterprise development, innovation and regional competitiveness and UNIDO considers it to be an efficient policy instrument for entrepreneurship and economic development.
The WACOMP-Ghana has supported over 43,000 actors including primary producers and SMEs.
Addresses for further enquiries:
Mrs. Ebe Muschialli,
UNIDO Industrial Development Expert
Email: [email protected]