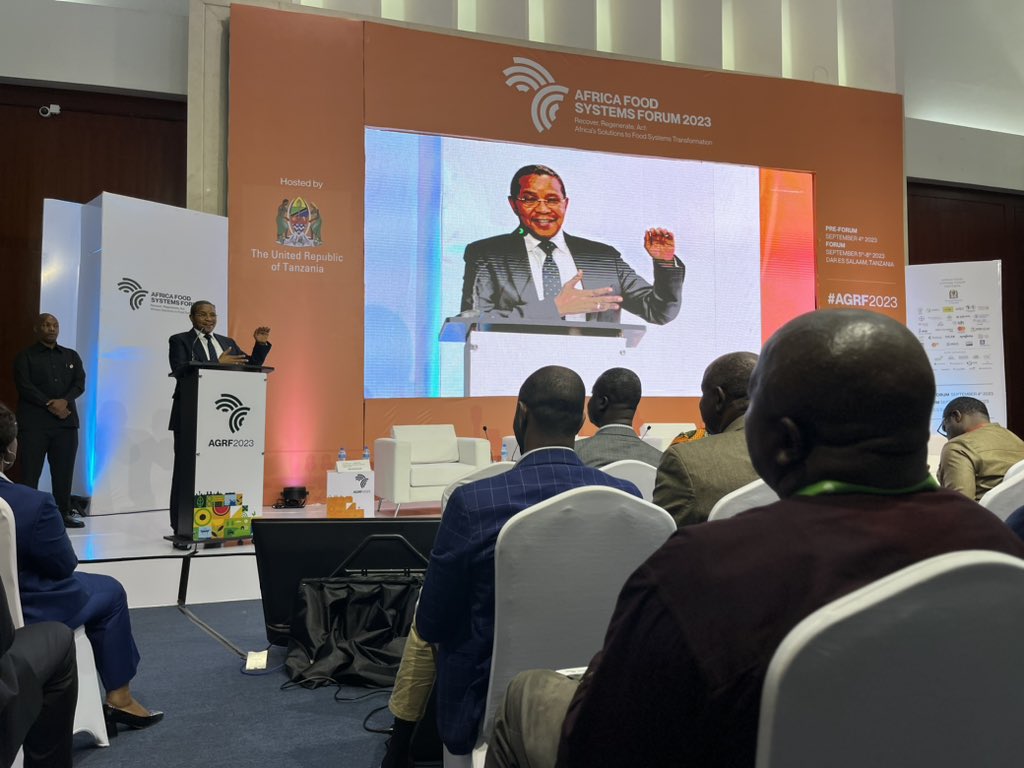 Deputy ranking member on Parliament's Food and Agriculture Committee Dr. Godfred Seidu Jasaw has urged African governments to work towards ensuring more coherent agricultural policies on the continent if food insecurity challenges can be fixed.
He says there is a lot of incoherence in agricultural policies on the African continent that requires immediate fixing.
"From the biennial review report from the Comprehensive Africa Agriculture Development program, something is clear, country policies across the program show incoherence in policy and commitment in agriculture," the MP for Wa East observed.
Dr. Jasaw was speaking at the 2023 Africa Food Systems Forum (AFSF) in Dar es Salam, Tanzania at a session themed; "Parliamentary and Policymakers Forum: Enabling the Trade Environment for Business." The session delved into the critical significance of fostering a conducive climate for enterprises in the food systems sector to thrive.
Moderated by Dr. Apollos Nwafor, Vice President in charge of Policy and State Capability at AGRA, the session discussed policies, laws, and regulations that can help attract investments and support the growth of small and medium-sized enterprises (SMEs) in the agriculture and food sectors.
Experts and policymakers deliberated on the challenges faced by businesses and the role of governments, parliamentarians, and private sector actors in creating a conducive business environment and the ability to trade.
Dr. Jasaw called on African countries to ensure there is a proper alignment between the work of the executive and the legislature in policing agricultural policies.
"There is a shrinking of the conceptualization of governance to think the government is just the executive. If we think of policy actions, we should think of the legislators. We should take the legislators along in the policy formulation and implementation," he said.
Dr. Jasaw also called for increased and timely funding of agricultural initiatives on the African continent. "Most agricultural activities in Africa are timely and rainfed. If the government doesn't receive the budget in good time, they will not be able to achieve their targets. The executive and legislators must be ready to work hand in hand to ensure government is held accountable," he said.
Rose Kayi Mivedor, Minister of Investment in Togo who also spoke at the session said her country is prioritizing investments in the agricultural sector to help better the lives of people.
"60% of the population in Togo lives in rural areas and the agricultural sector contributes to 33% of the GDP. As a result of this, we have put a strong focus on agriculture to improve access to land, seeds, and fertilizer," she said.
"We have put in place policies to reduce prices and implemented programs for irrigation, fertilizer, and training to ensure good yields and increase production. We need to have a strong involvement from the head of states to drive successes in the agribusiness sector and to show the youth population that agribusiness is suitable for them," she added.
Former Tanzanian president Dr. Jakaya Kikwete who delivered the keynote address at the session called on African countries to take advantage of the African Continental Free Trade Area (AfCFTA) to improve agriculture.
"We had a meeting in Ghana and the subject of discussion was promoting trade in the agricultural commodities. One thing that struck me at that meeting was that there are still a number of African countries that haven't ratified the AfCFTA. It is a big shame," he observed.
"If we talk of Africa coming together, AfCFTA is that process that brings Africa together on the economic front beyond the political front," he added.
Dr. Kikwete said through AfCFTA, Africa has a rare opportunity to transform its food system, create wealth, and feed its people. "But we need not do business as usual. And this involves ensuring a transformation of smallholder farmers who constitute more than 60% of African agriculture," he said.