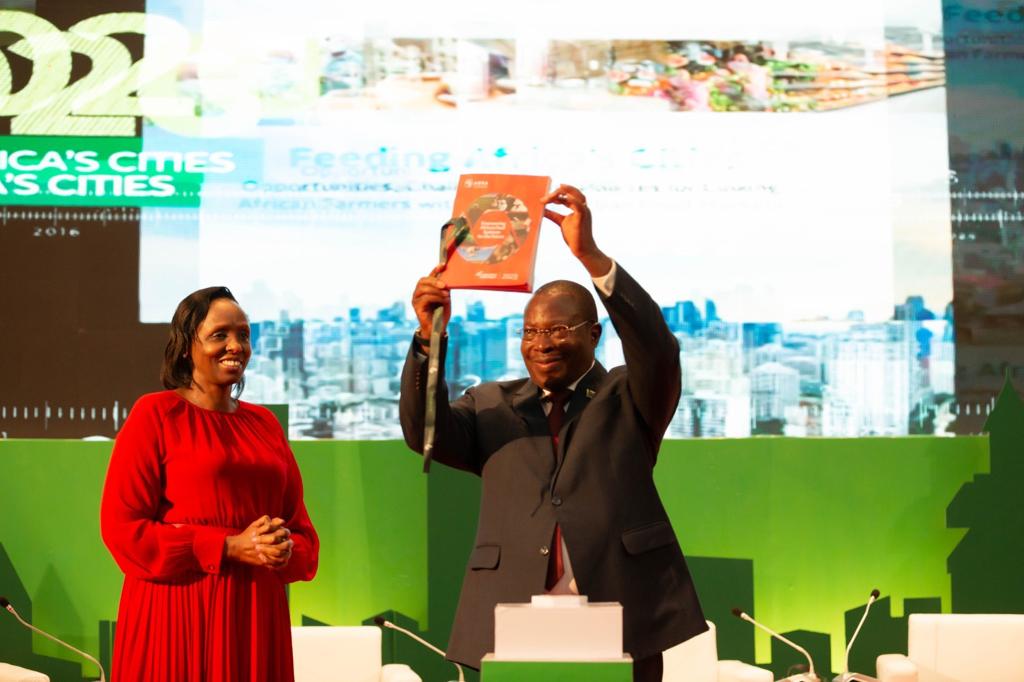 The Africa Agriculture Status Report (AASR) 2023 says Africa's food system is failing to deliver sustainable and healthy diets to all.
The report which was launched at the Africa Food Systems Forum (AFSF) 2023 in Dar es Salam, Tanzania, says the failure is largely due to the combination of climate change, conflict, economic instability, low agricultural productivity, and the impacts of the COVID-19 pandemic.
The AASR is commissioned annually by AGRA to provide an assessment of Africa's agriculture and recommend the way forward.
The 2023 report says with over 20% of the continent's population (roughly 257 million people) undernourished, Africa bears the heaviest burden of malnutrition. While progress has been made in some areas, high levels of malnutrition persist. Over 20 million people and at least 10 million children faced severe food shortages in Africa due to crop failure and four consecutive dry seasons.
Projections by the United Nations Economic Commission for Africa indicate that Africa's annual food imports will increase significantly by a factor of seven from USD 15 billion in 2018 to USD 110 billion by 2025.
The report says there are several factors contributing to the underperformance of Africa's agricultural sector, including the use of outdated farming practices and the low adoption rate of improved agricultural technologies.
Issues such as monoculture, lack of crop rotation, and poor soil management are still prevalent across the continent. Poor infrastructure in terms of roads, storage, and processing facilities limits access to markets and increases post-harvest losses. Moreover, many African farmers and other food systems-related businesses lack access to finance and credit facilities that would enable them to invest in improved agricultural technologies and inputs.
The report says numerous challenges and external impacts including extreme weather events and climate change, recurrent outbreaks of pests and diseases, limited availability, and low adoption of yield-increasing technologies, have put African food systems at a critical point. The tremendous increase in food demand emanating from the region's burgeoning population has exacerbated the situation.
The report says there has been a notable increase in global hunger with the African continent highly affected. These hiccups on the continent indicate that policies are no longer delivering improved marginal returns in alleviating hunger, food insecurity, and malnutrition in all its forms. Governments with fragile economies are also facing fiscal constraints to transform agrifood systems.
Recommendations
The report, themed, Empowering African Food Systems for the Future, was launched by AGRA President Dr. Agnes Kalibata and Vice President of Tanzania, Dr. Philip Isdor Mpango at the ongoing AFSF.
AGRA president Dr. Agnes Kalibata says the findings reiterate that empowering African food systems requires a multi-faceted approach that includes technological advancements, innovation and knowledge, digital revolution, trade, and innovative financing for a sustainable future. The increasing threat of climate and non-climate shocks and stressors only makes the promotion of practices that build resilience and sustainability even more essential, she observes.
Andrew Cox, Chief of Staff and Strategy at AGRA says this year's Africa Agriculture Status Report underscores the need and urgency to empower African food systems for the future. "It is a call for a multifaceted approach that fosters innovations including technological advancements, digital revolution, policy reforms, infrastructure development, and innovation and knowledge," he says.
Director General of the International Food Policy Research Institute (IFPRI) Dr. Johan Swinnen says it is paradoxical that Africa faces these food insecurity challenges despite being home to some of the world's most fertile lands, abundant resources, and a burgeoning young population.
The urgency to empower and transform African food systems is not merely an agricultural or economic imperative but a moral, social, and ecological one, he notes.
Lead author of the report Dr. John M. Ulimwengu told a media briefing in Dar es Salam: "Africa needs to produce food sustainably." "The food has to be healthy because there is a link between nutrition and health. That means from production to processing, storage, and distribution, we maintain a healthy standard. And it must be for all. It must be inclusive. No one must be left behind. That's the target," he adds.