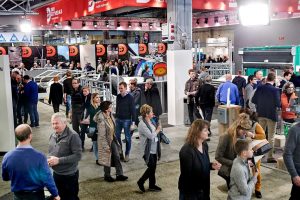 More than 2,200 exhibitors already registered – technical program with main theme "Green Productivity – inspiration and solutions" – November 12 to 18, 2023, at the Hannover Exhibition Grounds, Germany
(DLG). FRANKFURT, Germany, 9 May, 2023 – With an expected 2,600 exhibitors from over 50 countries, Agritechnica 2023, the world's leading trade fair for agricultural machinery, will take place in Hanover, Germany, 12-18 November.
The organizer, the DLG (German Agricultural Society) has today announced that all major companies operating in the international agricultural machinery sector are among the 2,200 exhibitors already signed up and listed in the preliminary exhibitor database at www.agritechnica.com.
Professional visitors can once again look forward to a comprehensive Agritechnica exhibition with its numerous market leaders and leading industry experts.
With more than 2,600 expected exhibitors across 23 halls, including 20 country pavilions, on over 400,000 square meters of exhibition space as well as a broad international technical program, Agritechnica will this year be the central venue and major highlight for the global agricultural machinery industry.
"The exhibitors from more than 50 countries include all market leaders. With the international dealer center, the B2B marketplace 'Systems & Components' and the start-up area 'DLG-AgrifutureLab', Agritechnica 2023 will offer a complete overview of farm equipment and related topics, working as a much sought after business platform with international networking, especially after the hiatus due to the pandemic," says Timo Zipf, Agritechnica project manager.
Technical program focuses on reconciling productivity with ecology
With the main theme "Green Productivity – inspiration and solutions", Agritechnica gets to the heart of the current challenge for socially acceptable agriculture. It must be made possible to increase productivity using fewer resources at lower intensity, while also protecting the environment and nature. In the technical program of Agritechnica 2023, the DLG is working with exhibitors from the fields of technology, farm input and services in various formats, such as spotlights and forums, to address the central question: "How can agriculture produce food, feed, raw materials and energy eco-efficiently?"
International platform of trend topics and innovations
In view of changing social, economic and climatic conditions, innovation in agricultural technology is crucial for future viability.
As part of Agritechnica, the DLG is recognizing the importance of agricultural machinery in shaping sustainable agriculture with three different awards.
The "Innovation Award", in gold and silver, honors innovations ready for the agricultural machinery market, while the "DLG Agrifuture Concepts" innovation award focuses on pioneering concepts. The "Systems & Components Trophy – Engineers' Choice" awards scheme focuses in particular on innovative technical systems and components for agricultural machinery.
With the DLG-AgrifutureLab, Agritechnica will once again offer start-up companies attractive opportunities to present their visions and products to the international agricultural machinery industry.
Systems & Components 
"Systems & Components" will again be held as part of Agritechnica in 2023. As a technical forum, industry venue and B2B platform for the supplier industry, the event is an ideal complement to Agritechnica, showcasing the latest developments and innovations in components for the agricultural machinery and off-highway sectors.
New: Inhouse Farming 
DLG has developed a new platform "Inhouse Farming – Feed & Food Show" as part of Agritechnica focusing on self-contained food production of the future. Suppliers of aquaponics, alternative proteins, vertical farming and cellular agriculture, among others, will present not only their products but also their perspectives, innovations and business opportunities "from feed to food", closely networked with agricultural practice.