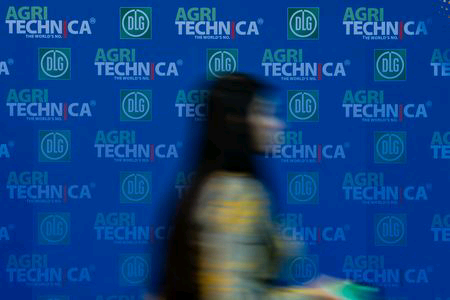 Delegations from Japan to attend Agritechnica to identify applicable solutions for home soil
(DLG). This week at the 35th International Agricultural Machinery Show, an agri-machinery exhibition taking place in Obihiro, Hokkaido every three years, the team of Agritechnica, the world's leading agricultural machinery trade fair held in Germany in November, will preview show highlights to Japanese farming professionals.
"For the past decade, we have been noting an increasing number of Japanese farm professionals attending Agritechnica. There is a strong interest in the smart farming solutions in particular. At the trade far, the whole industry is presenting time-saving and labour-reducing solutions and many of these are relevant to Japan's situation," says Angelina Laas, Area Manager for Asia, Agritechnica.
Today's average age of the Japanese farmer is over 66 and there is a shortage of workers[A1] in the agriculture industry. Automated and digitized solutions in agriculture like farm robots for small farms and automated water managed systems operated remotely can play a significant contribution in overcoming not only the future's shortage of workers while increasing yield, especially since agricultural areas are limited. "Time-saving machinery that also offer environment protection will be in demand for Japanese farmers visiting Agritechnica," adds Laas.
Japan's Ministry of Agriculture, Forestry and Fisheries (MAFF)is undertaking projects with private companies, universities, research institutes, and other organizations to realize the "Smart Agriculture " project that uses robot technology and Information Communication Technogies (ICT) to achieve what it terms ultra-labor-saving and high-quality production.
At the venue in Hanover, Germany, November 12-18, 2023, Agritechnica will be offering a full range of farm equipment, solutions and innovations, not found in this breadth anywhere else in the world.
At the International Agricultural Machinery Show in Obihiro, the Agritechnica team will present the trade fair's equipment range, from crop protection sprayers to drones, from tractors to autonomous equipment systems and from combine harvesters to digital assistance systems. The new machinery topics for 2023, including alternative power systems, forestry and self-contained farming systems, like vertical farming, will be discussion points at the booth.
North American exhibitors include five pavilions
Topical to Japan's agriculture, Agritechnica's guiding theme for 2023 "Green Productivity" denotes how new concepts and pioneering innovations ensure agricultural productivity and protect nature and the environment. The theme underpins the technical program, which includes several hundred conferences and events, as well the products and innovations from exhibitors.
With the aim of furthering agricultural knowledge across borders, the DLG (German Agricultural Society), a non-profit, non-political organization, is the organizer of Agritechnica as well as many other exhibitions and events around the world.
Agritechnica 2023 highlights for Japanese farm professionals:
NEW: Inhouse Farming: Feed & Food in focus
The "Inhouse Farming– Feed & Food Show" is the DLG's new platform for the agricultural and food systems of the future and includes indoor and vertical farming as well as other promising farming systems.
NEW: Drive Experience: Alternative power systems
Biomethane, hydrogen, electricity – In the new open-air format "Drive Experience", exhibitors will be offering the chance to experience alternative power systems beyond fossil diesel.
International dealer and service center; "Werkstatt LIVE" (Workshop LIVE)
In the " Werkstatt live" area, technicians will be demonstrating maintenance and repair work live alongside the international dealer center, the venue for trade professionals.
Agrifood start-ups
A prominent exhibition and networking area is dedicated to the international "start-up ecosystem" of the food and agriculture sector.
NEW: DLG.Prototype.Club
Teams of entrepreneurial software engineers will solve technical challenges set by exhibitors in advance. At the show, the teams present a working prototype where the focus is on inventiveness and rapid development.
Systems & Components Partner Event
Systems & Components will present solutions from the agricultural supplier industry, including engines, drivetrains, hydraulic systems and aftermarket parts.
All globally operating agricultural machinery companies are represented at the venue in Hanover, Germany. Offering the most comprehensive and varied trade fair program for international arable and crop farming, Agritechnica presents the whole range of agricultural machinery to farmers worldwide..
The latest information on Agritechnica 2023 is available at: www.agritechnica.com and on the social media channels:
www.facebook.com/AGRITECHNICA/
www.twitter.com/AGRITECHNICA
www.instagram.com/agritechnica/
www.youtube.com/agritechnica
www.linkedin.com/groups/3348135/