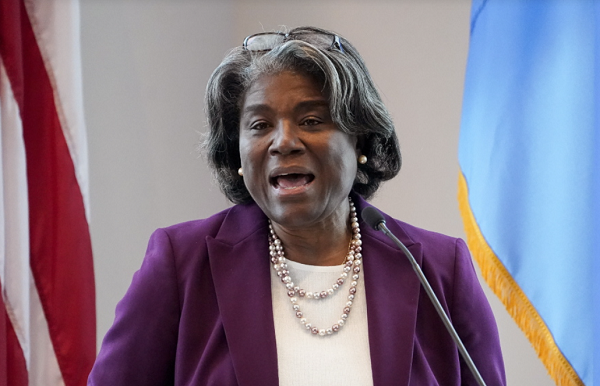 The U.S. ambassador to the United Nations, Linda Thomas-Greenfield has praised Ghana as a leader in food security in Africa ahead of her visit to the country on Friday.
Ambassador Thomas-Greenfield is currently on a three-nation trip to Uganda, Ghana and Cape Verde. She is expected to discuss the impact of Russia's war on Ukraine, specifically the impact it's having on global food security tomorrow in Accra.
Before she departed for her first stop in Uganda today, Ambassador Thomas-Greenfield told a U.S. Department of State Africa Regional Media Hub Briefing, that all three countries face serious food security situations because of the significant rise in the cost of food and energy.
However, she said Ghana had been a leader in dealing with it and she will be visiting a market, meeting farmers and going to a grain factory in the country "to see how we can help them improve on their production."
"It's about how we partner with African countries to address the long-term consequences of food insecurity, how we work with these countries to bring their own resources to the table," she said.
"Ghana, for example, has been a leader in food security. As the – as a Feed the Future partner for more than a decade, they have been joining initiatives and performing better than most of their peers on the continent in their agricultural sector. So we will be looking at how countries can bring their own resources, how Africa broadly can start to develop the capacity to address its food needs so that it is not dependent.
"So what I'm looking to do on the continent of Africa is talk about solutions, to talk about how our relationships and our partnerships can help Africa get to better – a better place in feeding its own people, in addressing the crisis on the ground, and ensuring that prosperity is available to all the people across the continent of Africa".
She said high energy prices, climate change, COVID-19 and increasing conflict had pushed millions of Africans "to the brink," and that Russian President Vladimir Putin's invasion of Ukraine on February 24, 2022, had added to the crisis, "especially since some countries in Africa once got up to 75% of their wheat from Russia and Ukraine."
"The reason that there is a food insecurity crisis on the continent of Africa at this moment is because of Russia's unprovoked attack on Ukraine. These countries are dependent on about 75% of their food aid from Russia, as well as from Ukraine. And this unprovoked war has led to shortages, it has led to price increases, and it has led to additional suffering of the people on the continent of Africa. Russian food is not sanctioned by our sanctions. There are no sanctions on any agricultural products from Russia. So, it is completely a disinformation, misinformation campaign in which Russia does not want to accept responsibility for what they have done to international food markets across the continent of Africa," she said.
Ambassador Thomas-Greenfield is scheduled to deliver a keynote address in Ghana on the global food security crisis on Friday.