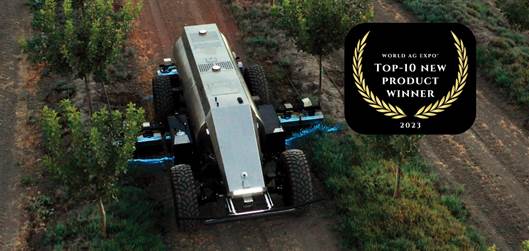 KINGSBURG, Calif. (December 20, 2022) – GUSS Automation is the recipient of their third Top-10 New Product award from the International Agri-Center and will be showcased at the World Ag Expo February 14 – 16, 2023 in Tulare, California.
The cutting-edge autonomous herbicide sprayer, Herbicide GUSS is the first and only autonomous herbicide orchard sprayer on the market.
This high-tech herbicide sprayer removes the driver from the tractor to save labor and eliminate exposure to the chemicals being sprayed.
GUSS Automation debuted GUSS in 2018 at the World Ag Expo as the first autonomous orchard sprayer in the world and mini GUSS in 2021 for vineyard and high-density orchards.
Both autonomous sprayers were awarded Top-10 New Product and now Herbicide GUSS has received this honor as well.
The advanced technology used by GUSS sprayers allow a single operator to monitor any combination of up to eight GUSS, mini GUSS and Herbicide GUSS sprayers from the safety of their vehicle to improve productivity, increase precision and efficiency, reduce operational and overhead costs, and enhance worker safety.
Commercial spraying business owner, Dave Crinklaw dealt with the shortage of agricultural labor in his own business and he found himself looking for answers and the solution came in the form of a driverless orchard sprayer. After developing and successfully introducing a fleet of GUSS (Global Unmanned Spray System) sprayers into his own custom application business, Crinklaw decided to make GUSS autonomous sprayers available for any grower to own.
"We innovate out of necessity for our own farm business. We also know that if the machine helps us, it will help other
growers facing the same challenges we are. Herbicide GUSS is our latest innovation, and we are so excited to be
honored with our third World Ag Expo Top-10 award," said Gary Thompson, COO at GUSS Automation.
About GUSS Automation
GUSS Automation, LLC (www.GUSSag.com) is the trailblazer in autonomous orchard, vineyard, high-density, and herbicide sprayers. With GUSS machines spraying all over the world, GUSS, mini GUSS and Herbicide GUSS continue to achieve award status with their precision, efficiency and increased safety technology.
GUSS Automation keeps modern ag businesses moving – row after row, field after field, day or night.
See Herbicide GUSS in action: GUSS – Global Unmanned Spray System (gussag.com)