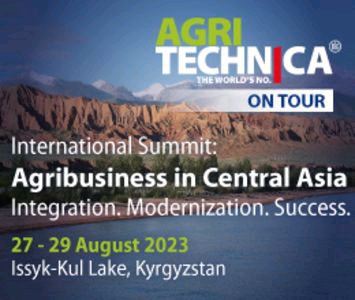 27-29 August Issyk-Kul, Kyrgyzstan – 250 expected attendees from Central Asia and other continents – DLG is co-organizer with ministries of the Kyrgyz Republic hosting in the hub of Central Asia – Agritechnica on Tour stop
Organized by the DLG (German Agricultural Society) and partners, a new international summit, to be held in the Kyrgyz Republic, 27-29 August 2023 and titled "Agribusiness in Central Asia: Integration. Modernization. Success.", will explore efficient models for vertical and horizontal integration in Central Asia for crop production, horticulture, and animal husbandry . The summit will equip regional agribusiness professionals with the tools to modernize, offering topics like economy and financing models, and development strategies for grain and potato as well as technology insights.
The event is hosted by the Chamber of Commerce and Industry the Ministry of Agriculture, both of the Kyrgyz Republic.
Opportunities in the region: companies invited to participate and sponsor
Aimed at agribusiness professionals in Central Asia, the summit will also appeal to international companies with solutions for countries in the region. Such companies are invited to attend the international summit as participants or sponsors.
The majority of arable farm equipment in Kazakhstan, the largest grain producer and exporter in the region, needs replacement. The Uzbek government is implementing reforms that transform agriculture from state to private structures. The aim is to professionalize animal husbandry through modern production methods, including value chains that are mapped in logical cluster systems. In Kyrgyzstan, the livestock sector represents opportunities for foreign investment, particularly in meat processing. Dairy production is developing fast and could in the future play a significant export role in the region.
"We have created four attractive sponsorship packages for companies targeting top agri-professionals in Kazakhstan, Uzbekistan, Kygyzstan and other countries in the region. We are expecting some 250 participants so this is an opportunity for companies offering products and services," says Olga Hunger, Area Director Central and Eastern Europe, DLG.
The packages on offer range from company mentions and entry to the event to speaker opportunities and exhibition stands.
https://www.agritechnica.com/fileadmin/downloads/2023/ATonTour/KG_Sponsoring_Packages_EN_TG.pdf
The summit is aimed at farmers, contractors, consultants, trade, representatives of business associations, financial sector and politics from the Central Asian region. The organizers are expecting 250 attendees from Kazakhstan, Kyrgyzstan, Uzbekistan, Turkmenistan and other countries.
Central Asian agriculture needs integration models
Central Asian agriculture production consists largely of small and medium-sized farms, a structure that limits economic growth. The region needs modernizing technological processes for the production of high-quality and homogeneous products suitable for sale through retail chains or for export.
"There are proven integration models that will enable new levels of productivity. The summit will explore integration processes for agricultural producers and companies that are applicable regionally and internationally," adds Hunger.
Successful cases of agribusiness integration, both vertical and horizontal, leading to economic growth will be presented at the summit, offering participants discussions with practitioners and representatives of international organizations, agricultural enterprises, associations of Kazakhstan, Uzbekistan and Kyrgyzstan.
International partners
The partners of the event are German Agribusiness Alliance, Milk producers Association of Kyrgystan, Kazakh chamber of dairy and mixed cattle, Potato Union of Kazakhstan, German-Kazakh Agricultural Policy Dialog, BT Innovation fonds and other organisations. Official sponsors are DEULA and Grimme and others.
The summit is one of the "Agritechnica on Tour" stops, a series of in-person, in-country, international events that offer professional insights on topics like mechanization as well as a preview of Agritechnica, the world's leading agricultural machinery trade fair in Hanover, Germany.
"The international summit we are organizing in Kyrgyzstan this year, can be seen as a complement to Agritechnica 2023. Farm professionals from countries in central Asia come to Agritechnica to update themselves on farm equipment and trends. This event, held locally, brings tailored know-how to the very attendees we are expecting at Agritechnica in Hanover in November," adds Olga Hunger.
Agritechnica is next stop for central Asian farming professionals
Professional visitors from the central Asian countries appreciate Agritechnica for its full range of equipment, solutions and innovations, not found anywhere else in the world. Agritechnica organized by the DLG (German Agricultural Society) presents the whole range of agricultural machinery, from crop protection sprayers to drones, from tractors to autonomous equipment systems and from combine harvesters to digital assistance systems. Agritechnica in Hanover, Germany, 12-18 November 2023.
With more than 2,600 expected exhibitors across 24 halls on over 400,000 square meters of exhibition space as well as a broad international technical program, Agritechnica 2023 retains its place as the world's largest exhibition for agricultural machinery.
With the theme "Green Productivity" denoting how new concepts and pioneering innovations ensure agricultural productivity while protecting nature, climate and the environment, Agritechnica's technical program offers hundreds of interactive presentations.
Agritechnica is organized by the DLG (the German Agricultural Society). Headquartered in Frankfurt, Germany, the DLG strives to increase professional knowledge in agriculture across borders, its objective since the society was formed in 1885.
Drawing on an international network of experts in food and agriculture as well as subsidiary companies in nine countries, the DLG organizes over 30 regional arable and livestock exhibitions worldwide, in addition to its leading international trade fairs, EuroTier for livestock farming, and Agritechnica for agriculture machinery and plant production, each taking place biennially in Hanover, Germany.
Program details of the international summit "Agribusiness in Central Asia": https://www.agritechnica.com/en/visit/agritechnica-on-tour/agribusiness-in-central-asia
Note to editors:
Kyrgyzstan and Kyrgyz Republic, the official name of the country, are used synonymously.