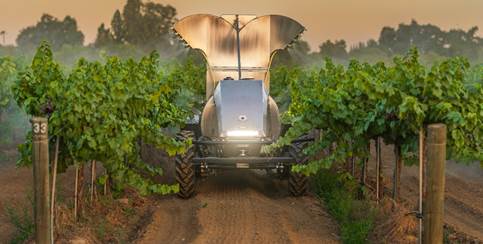 KINGSBURG, Calif. (January 11, 2023) – In 2014 when commercial spray business owner, Dave Crinklaw, drew a design
on his shop floor of what he envisioned the solution to his labor challenges and inefficiencies to be, the journey to
building the first autonomous sprayer began.
After several years of prototype development and refinement, the award
winning GUSS was delivered to the first customer in 2019. Today, GUSS Automation has found great success and
recognition for the innovation of GUSS autonomous sprayers.
GUSS machines have now sprayed over a million acres and this week GUSS Automation delivered the 200th autonomous sprayer.
In Spring 2022, GUSS Automation took another leap forward by forming a joint venture with Deere & Company.
This partnership was created to provide solutions to growers worldwide through increased precision and efficiency,
enhanced safety, and confronting labor challenges. "Deere and GUSS are both committed to investing in innovation and technology to help farmers be more productive and profitable while growing more food using fewer resources," said
Chris Davison, Director, Small Tractor & HVC Production Systems, at John Deere.
GUSS Automation continues to be an industry innovator.
As the need for autonomous agriculture equipment continues to grow, GUSS Automation is developing new technologies to meet those needs. GUSS Automation's R&D department's industrious team is designing and building the next cutting-edge machines to propel autonomous equipment in the agriculture industry.
About GUSS Automation – GUSS Automation, LLC (www.GUSSag.com) is the trailblazer in autonomous orchard,
vineyard, high-density, and herbicide sprayers. With GUSS machines spraying all over the world, GUSS, mini GUSS and
Herbicide GUSS continue to achieve award status with their precision, efficiency and increased safety technology.
GUSS Automation keeps modern ag businesses moving – row after row, field after field, day or night.
See GUSS, mini GUSS and Herbicide GUSS in action!
Contact: Nancy Delap
559-897-0245
[email protected]
www.GUSSag.com