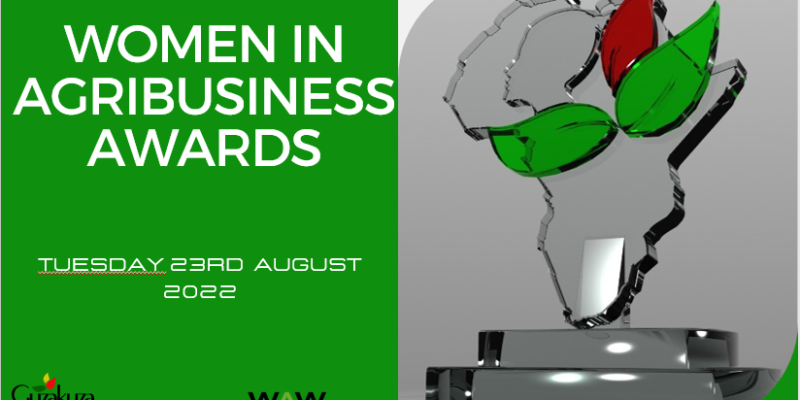 The 2022 Women in Agribusiness Awards has been launched with a call to identify and honour persons especially women who play key roles in the Agribusiness sector.
The awards which was launched in a virtual event on August 23, slated for October 29, will climax the women in agribusiness week expected to be marked from October 24 to October 29, 2022 themed "Revitalising Partnerships for Sustainable Agribusiness Development."
The Women in Agribusiness Awards aim to highlight the achievements of exceptional women in the agribusiness fraternity who have risen above the limit to lead the way for others to emulate.
The Guzakuza initiative will not only celebrate winners, but also support them through mentorship and market linkages.
In all, Thirty-five (35) outstanding and women across the African continent will be celebrated on the day in a hybrid event.
Agribusiness is a sector that supports the growth of the agricultural industry, which is pivotal to economic growth. It plays a crucial role in the growth of developing countries.
About Guzakuza
Guzakuza's brand represents women in agribusiness and the best they have to offer. For more than 7 years, Guzakuza has been building an ecosystem of Female Agribusiness Leaders building resilience in the sector.
The brand has directly impacted over 7,000 Women in Agribusiness across the African continents. Through its Ignite programme, it has also provided opportunities and served as a platform for Women in Agribusiness particularly, Female Agribusiness Founders to be educated, nurtured and empowered to build sustainable food businesses.
Categories of the 2022 Women in Agribusiness Awards
She – Innovate in Agribusiness Awards/Agritech Innovation Awards
Perseverance Award
Emerging Star in Agribusiness Award
Covid-19 Resilient Award
Role Model Excellence Award
Innovation of the Year
Environmental Impact Award
New Business of the Year
Business Diversification Award
Green Business of the Year
Diversity And Inclusion Award
Export Agribusiness of the Year
Micro Business of the Year
Best Woman Farmer of the Year
Green Business of the Year
Online Agribusiness of the Year
Sustainable Agribusiness of the Year
Young Agri Entrepreneur of the Year
Agrifintech Company of the Year
Marketing Innovation Award
International Agribusiness Woman of the Year
Agrimedia Award of the Year.
Agri Journalist of the Year.
Agri Finance of the Year
Research Institute of the Year
Agribusiness Institution of the Year
Best Government Agri Initiative
Agric Innovator of the Year
Best Agri Advocacy Award
Long Service Awards (Women And Men )
Best Agribusiness Ally Award
Best Packaging Agribusiness of the Year.
Best Equipment & Machinery Award
African Agribusiness Woman of the Year