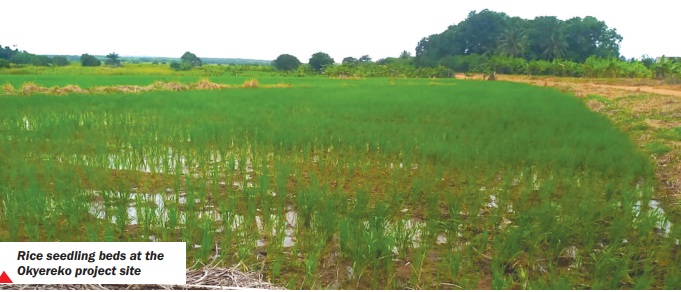 Given its current capacity for rice production, it is projected that Ghana's Central Region will become the country's primary rice-producing area and help the nation reduce its massive volumes of rice importation.
A large tract of high-quality land with potential rice farmers are also available in the region to make the goal a reality.
While accomplishing this will not be a simple task, stakeholders have established a four-year deadline to make it a reality with the necessary steps, support and funding to advance the aim.
Efforts
The South Korean government and its Ghanaian counterpart have a current $8 million deal in place to improve capacity and rice seed development, provide agricultural gear and equipment, build a rice milling plant and build a storage facility for agricultural equipment in the Central Region.
The four-year bilateral cooperation project was launched in June 2021 by the government of the Republic of Korea, through the Korea International Cooperation Agency (KOICA) and its implementing partner, the Ministry of Food and Agriculture (MoFA).
The project is being implemented in the Central Region in five beneficiary districts, namely Gomoa East, Assin Fosu, Assin North, Assin South and Twifo Atti-Morkwa.
Okyereko in the Gomoa East District in the region has been designated for rice seed production, while a rice milling factory is currently underway at Assin Akropong and is expected to be handed over soon to the region and relevant stakeholders in the rice value chain.
In addition to the two facilities in the area to improve the rice value chain in the region, KOICA has also provided machinery support to stakeholders.
They include, among other things, tractors, power tillers, rice winnowers, combined harvesters, rice threshers and water pumps to improve irrigation on farms.
It is worth noting that under the project, there has also been the distribution of certified enhanced AGRA rice seeds to 514 farmers in the region.
This was done after MoFA's Plant Protection and Regulatory Services Directorate verified that the seeds had a germination rate of over 90 per cent.
The rice farmers in the beneficiary districts are receiving about eight tonnes of the thoroughly researched AGRA rice seeds, which are being planted under stringent agronomical guidelines.
Training
A Training of Trainers (ToT) programme on enhanced rice growing methods has also been launched for 60 agriculture extension officers in the region as part of efforts to realise the objective of making the Central Region a hub of rice production.
Forty officers will alternately receive training in groups while 20 have already completed their training.
One of the ways for building agricultural officers' knowledge and practical abilities in rice production is the ToT programme, which is run by the project's implementing partner (IP), BENDA Services Group (BSG).
In order to improve rice quality through the development of postharvest management technologies, agricultural extension officers have been taken through modern rice farming methods.
The trained officials are expected to work closely with local farmers and train them on the most effective and cutting-edge farming techniques.
Right time
A participant in the ToT programme, Dr Aloysius Agwani, commented that the training had come at the right time and had given them a platform to enhance current procedures and to spread knowledge among their diverse communities.
However, he recommended refresher training sessions for both trainers and local farmers to enable them to stay current on the production of the rice value chain and its modernised techniques.
In addition, a higher-level training programme on capacity building will begin in South Korea on July 28 for directors, particularly farmers and stakeholders in the region.
Commitment
In his remarks at the closing ceremony of the ToT programme, the Country Director of KOICA Ghana, Moo Heon Kong, noted that the programme's goal was to strengthen agencies' institutional capacity.
He expressed the hope that the beneficiary officers would recognise their contribution to the project's goal of increasing rice production and establishing the Central Region as a hub of high-quality rice.
The Country Director expressed optimism that the project would contribute to attaining national self-sufficiency in rice production by 2024, as envisioned by MoFA
Impact
Local rice farmers in the areas that have been chosen for the project expressed enthusiasm and hope about it, saying it would increase their capacity for producing rice and offer them access to a wider market.
A rice farmer, Clifford Dentsi, said in an interview: "I am glad there is a scheme like this to support us. Most people don't even purchase our rice because they think it contains stones and other particles and it is not high quality.
"So now that we have this chance and technology, it will enable us to improve our operations, produce rice of the highest quality and boost sales as well," he concluded.
Some excited residents of Okyereko stated that the project would help to lower the poverty and unemployment rates in the area.
They encouraged the government to repair the road leading to the project site to encourage investors to honour their commitment.
A resident, Mena Yaba, said "this significant effort will benefit many of the young people in our town, and it is really commendable. However, I am pleading with the government to repair this road because it is in poor condition and becomes even impassable when it rains."
Expected outcome
The Central Regional Director of Agriculture, Dr Peter Omega, was upbeat that the project would produce the desired results.
He said his outfit would offer the environment and support required for the initiative to succeed.
Dr Omega pleaded with participants and rice farmers to implement the cutting-edge farming methods they had learnt to prevent the training and other investments from being for naught.
The Central Regional Minister, Justina Marigold Assan, for her part, urged caterers in particular to purchase rice grown in the region in order to increase production capacity and inspire farmers to grow more.
She stated that the Regional Coordinating Council and other interested parties would make efforts to interact with school feeding caterers on how they could come in to buy locally grown rice.